The 2019 F1 Season in Numbers
16 Dec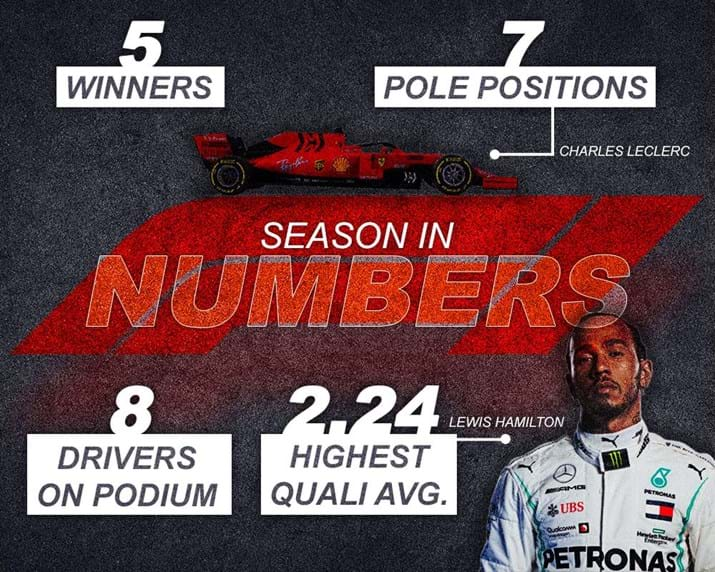 2019 will undoubtedly go down as one of the all-time greatest Formula 1 seasons. Not only did Lewis Hamilton continue his unrelenting form to claim his sixth world title, it also marked the apparent rise of the next generation of Formula 1 drivers who will dominate the sport in years to come.
But just how impressive were some of the drives this season? To find out just how well each driver performed, we thought we'd take a look at the numbers behind the 2019 season thanks to Racefans.net and statsf1.com, to see who ultimately came out on top and rank each driver's overall performance. So, here goes:
Race results
It may come as no surprise to know that Mercedes-AMG Petronas took an incredible 15 out of 21 wins in 2019, with Ferrari and Red Bull the only other two teams to stand on the top step of the podium. The 2019 Champion would stand on the top step 11 times this year, equalling his most wins in a single season, previously scored in both 2014 and 2018. He would also stand on the podium in all but 4 races, with teammate Valterri Bottas claiming 15 in total, and Leclerc beating Vettel 10-9.
In total, 8 different drivers would stand on the podium in 2019 with 5 different winners. Aside from the big-three teams, it would be Toro Rosso collecting the most silverware, with both of its drivers standing on the second step of the podium – something they wouldn't have predicted at the start of the year. A welcome return to the podium was McLaren, with Carlos Sainz Jr. finally being rewarded for an incredible debut season at the team in Brazil.
Qualifying
The fight for the top was much closer in qualifying, with Mercedes-AMG just edging out Scuderia Ferrari 10-9 in the battle for pole position. Red Bull Racing would be the only other team to start from the front of the grid. The rising star of Ferrari, Charles Leclerc, was arguably the man to beat on Saturday's though, taking a staggering 7 pole positions throughout the season.
Hamilton would take the best qualifying average of the year, with 2.24. In terms of inter-team battles, it was a clean sweep at Williams for F2 Champion George Russell, beating Robert Kubica 21-0 despite the team never managing to get out of Q1. On average the young Brit was 0.625s quicker than his teammate. Other dominant performances came from Sergio Perez and Max Verstappen, who both beat their respective teammates 18-3 over the course of the season.
Racecraft
It would be Racing Point BWT Mercedes that would take the crown for best starts in 2019. Lance Stroll would make up an impressive 40 places across the season on lap 1, while Sergio Perez came second with 30 places gained. At the other end of the spectrum, Red Bull Racing's Max Verstappen would lose 23, and Haas' Romain Grosjean would lose 33…
Only four teams would lead a lap in 2019, Mercedes-AMG, Ferrari, Red Bull Racing and… Alfa Romeo. Thanks to a bizarre race of strategy in Singapore, Antonio Giovanazzi would be the only driver outside of the top three teams to lead a race (with 4 laps in total).
Driver Rankings
So this brings us to our driver rankings for the 2019 season, who would come out on top, and who had a season to forget?
Lewis Hamilton – 9/10: An almost faultless season for the six-time Champion. When he was on-form he was untouchable (Abu Dhabi, France), but at times showed signs of cracking under pressure that was almost uncharacteristic (Germany, Brazil). The fact he was always able to turn it up a gear when it was required though shows his thoroughbred skill.
Valterri Bottas – 6/10: This was a make-or-break year for Valterri. When 'Bottas 2.0' emerged in Melbourne and appeared to have the edge on Lewis for the opening rounds, many thought this would be his best chance at a world title. But simple lack of pace and unforced errors (Germany) threw his seat into jeopardy. He has retained it, but has essentially had to accept that he will now forever be the #2 driver at Mercedes…
Sebastian Vettel – 4/10: Sebastian Vettel seems to have been on a downwards trajectory since his crash in front of his home crowd in 2018. Many say he was robbed of victory by the FIA in Canada due to a 5 second penalty, but even those critics cannot suggest that this was one of the four-time Champion's strongest seasons. Spins in multiple races robbed Ferrari of valuable points, and he was outshone by his relatively inexperienced teammate throughout the season.
Charles Leclerc – 8/10: Flashes of brilliance summarise Leclerc's first season at Ferrari. Robbed of victory in just the second race of the season, it would take until Belgium for Leclerc to finally take his first F1 win. Alongside these meteoric performances, there was also evidence of his lack of experience, in Azerbaijan, Germany and Brazil, costly errors show he still has room for improvement in 2020.
Max Verstappen – 8/10: Again, showed why he is the #1 driver at Red Bull Racing. Outclassing Gasly in the opening rounds and keeping a comfortable distance to Albon in the second half of the season, it is clear he suits RBR machinery. Sensational drives at Silverstone and the Red Bull Ring would prove he could take the fight to others as well. His major downfall of the season was poor starts; however it is noted that this is due to the way his Red Bull machinery acts when warming up.
Alex Albon – 8/10: As rookie seasons go, it couldn't get much better for Alex. Promoted to one of the top three teams' mid-season, and able to take the fight to the old guard on multiple occasions, he was robbed of a maiden podium in Brazil by the eventual champion with just laps to go. A few too many mistakes hurt the pockets of Red Bull, but hopefully this can be resolved in 2020.
Carlos Sainz Jr. – 9/10: The unsung hero of 2019. Dominated the midfield and was often in a class of his own. To the point he was never shown on TV coverage due to always being on his own on-circuit. Many thought he would be towards the back of the midfield in 2019, but he has helped bring the team back to the forefront and helped claim their best result in five years. Our driver of the season.
Lando Norris – 9/10: Perhaps the most unfortunate driver on the 2019 grid, Lando took the fight to Carlos right from the start. Inseparable in qualifying, and often on track, the pair provided a welcome boost to McLaren's morale. Tangled in first lap incidents, and a power unit failure on the last lap of the Belgian Grand Prix would mean his final results did not show his true potential, but he has certainly come into the sport with a bang.
Daniil Kyvat – 6/10: A solid season for Daniil, with an incredible second place in Germany as one of the few drivers to manage to keep his car on-track in treacherous conditions. Unfortunately, 'the torpedo' returned in Singapore and Mexico, marring what could have been a good season for the Russian.
Pierre Gasly – 6/10: Being demoted mid-season will never boost a driver's confidence, but it seems that Pierre fits in better with the Toro Rosso team. His second half of the season was much stronger, and he was rewarded with a podium at the Brazilian Grand Prix.
Daniel Ricciardo – 6/10: The move to Renault did not pay off for Daniel as he had hoped, and he never seemed as comfortable in the car. Some strong performances were contrasted with low-midfield slumps when the car didn't suit the track.
Nico Hulkenburg – 4/10: In what appears to be the German's final year in F1, Nico was often bested by his teammate on track. His moment to shine came in Germany but threw away a potential podium – which would have been the first of his career – due to an unforced error.
Sergio Perez – 7/10: The tyre master proved once again this year how his conservative driving style can rack up points. Often finishing in the top 10, Perez did not ultimately have the best season ever in F1, but it was overall a very strong performance.
Lance Stroll – 6/10: Like his teammate, Lance had a strong 2019. A podium in Germany would be his highlight, while his major downfall appears to be his one lap pace in qualifying.
Kimi Raikkonen – 5/10: Alfa Romeo looked to be the "best of the rest" at the start of the season, with Kimi often dicing with the top 6 in the early stages of races. But towards the mid-season his and the team's performances seemed to falter and never recover, leading to a poor end to the year.
Antonio Giovanazzi – 5/10: Antonio would only claim 1/3 of his teammate's points in total, but overall had a very similar season. He did just enough for the team to keep him on for another season, so let's see how he fares.
Kevin Magnussen – 4/10: Haas had a terrible year in 2019. Often towards the back of the grid, Kevin did occasionally show what the car could do with strong qualifying performances. Beating his teammate become a regular occurrence, but it was not a strong campaign for him by any means.
Romain Grosjean – 2/10: His entire F1 career has been scrutinised due to his on-track performances, but this was brought into question again in 2019. Crashing at pivotal moments, or not in some cases (such as the pit exit at Silverstone), it shocked many when he was retained for 2020.
George Russell – 7/10: A strong first season in F1 for George, ultimately ended up worst of the F2 graduates given the team's relative performances, but he still showed signs of promise. A clean sweep in qualifying showed his pace, but he needs a more competitive car for us to judge his full potential.
Robert Kubica – 4/10: A remarkable comeback, but maybe one that should have been left as a "what if" for Robert and Williams in 2019. His racing acumen was evident with his decisive first laps throughout the season, and thanks to an Alfa Romeo disqualification he scored the teams solitary point. But overall his was clearly last in terms of performance on the grid, and ultimately led to him being replaced for 2020.
So, there we have it, who was your driver of the season? Let us know, and we'll see you at the track in 2020!