A Six-Time F1 World Champion – Lewis Hamilton
20 Nov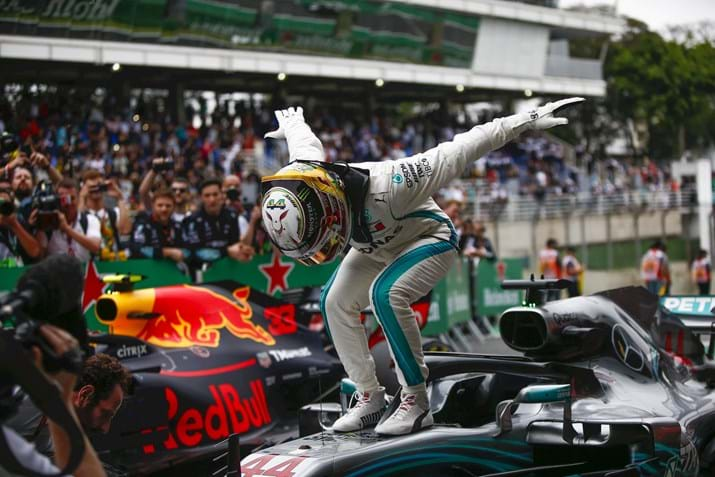 Alas, in a time of lack-lustre performances and unlucky results, the British seem to be turning things around. Gaining a taste for victory like a lion with fresh prey, the Brits have become unusually accustomed to winning ways. The Three Lions have just comfortably qualified for Euro 2020 qualification where they will be one of the favourites; The England cricket team brought it home in a remarkable World Cup final victory over New Zealand; and England rugby gave us an incredible win against the mighty All Blacks to reach their World Cup Final. All these performances are praiseworthy across their respected sports. But none quite match the feat accomplished by our Formula 1 golden boy, Lewis Hamilton.
Hamilton seals his 6th World Title
Hamilton clinched his 6th F1 world title at the US GP earlier this month, coming in 2nd place behind Mercedes teammate, Valtteri Bottas. His brave performance overturned the odds from 5th on the grid, bearing in mind a finish in the top 8 would have sufficed. He spent the race focusing on one thing and one thing only, where he was in relation to Bottas. Qualifying 5th with Bottas on pole was less than ideal and getting the win with a three-car gap was a tad unrealistic. Still, it shows a Champion's spirit, reflecting his unrelenting pursuit for glory. His latest feat is a result of a ruthless mindset, coupled with Mercedes' superior car that's seen him dominate recent seasons. Hamilton is undoubtedly one of the greatest drivers of all time, but how does he stack against other champions of recent years?
The greatest of the greats?
We recently drew comparison between our Top 5 British Drivers to win the Silverstone GP. Hamilton's inclusion is undoubted, against some legendary competitors. However, here we discuss the top 3 drivers of recent time who have all won multiple titles.
1- Sebastian Vettel
Despite a recent lack of form, and even talks of leaving the sport, it shouldn't be forgotten that Sebastian Vettel has won 4 Championships, during a period he and his Red Bull team dominated. His and Hamilton's rivalry remains one of the most compelling rivalries on the grid. Although, Hamilton spoke out saying their beef had temporarily been put to bed before the US GP. This is after contact earlier at the Autodromo, where Hamilton claimed that Vettel is a magnet for such situations. Anyhow, Vettel is the only other current driver to hold more than one championship, just two short of Hamilton and three off Schumacher, hence his third position on our list. Based on current standings, the German is unlikely now to catch up with his British rival, however his accomplishments in the sport cannot be denied.
2- Lewis Hamilton
The six-time champ is now within striking distance of Schumacher's seven titles (Ok, spoiler alert - Schumacher is #1 but that was obvious right?!). Although LH lacks Schumacher's totals, he does however have a superior win ratio and pole positions record. Regarded as the purest test of a driver's speed, Hamilton takes the cake on this one. With one in three GP wins, accumulating 83 victories, he falls 8 short to Schumacher's 91. 1 world title and 8 race wins separate the two; confirming Hamilton as the second most successful driver of all time. Despite that, Lewis has time yet to overthrow his legendary rival, with no signs of him stopping anytime soon. Will Hamilton carry on until these records are broken - is this his motivation - or has he already planned his exit from the sport to concentrate on his other passions?
1- Michael Schumacher
Schumacher is hailed as one of, if not the best driver to grace F1, with driving skills to rival anyone to have raced, especially in the wet. With the most driver's championships and total race wins, it's hard to argue who's top dog. He set the bar high; it's hard to imagine anyone capable of living up to his exceptional standard. Hamilton's sixth is his third consecutive title win. Impressive, until stats reveal Schumacher swept all before him with an astounding five on the trot between 2000-2004. It's clear Hamilton still has a little way to go to be crowned the greatest of all time. His footsteps shadow ever closer to the monumental feats achieved by the greatest, Michael Schumacher. Will next year be more of the same?
Witness Hamilton edge towards greatness in the 2020 season, exclusively with Red Eye's VIP hospitality. Get in touch with our team!