The Updated 2020 F1 Calendar
03 Jun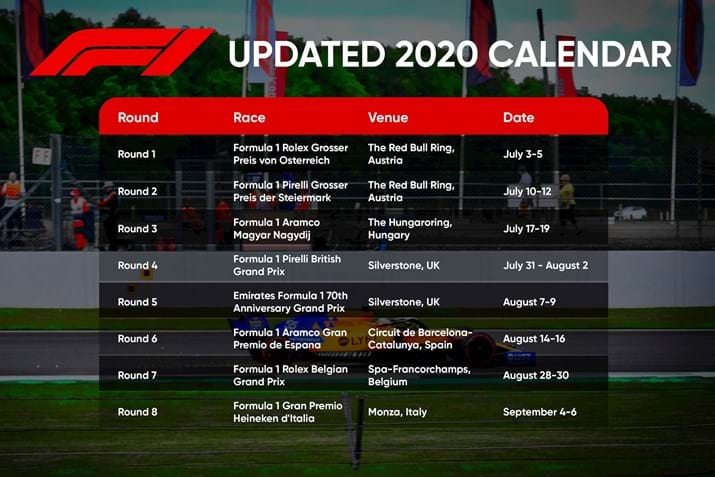 Yesterday, Formula 1™ officially confirmed the first eight races of the calendar for the upcoming 2020 season!
The season will begin with back-to-back races at the Red Bull Ring on July 5th and a week later on the 12th. The following week, the Hungaroring will host the championship, resulting in the second triple header in the sport's history.
Two weeks later teams will face another double-header at the home of British Motorsport, Silverstone, before venturing to Spain for Round 6 at the Circuit de Catalunya. Then comes the Belgium Grand Prix with the teams heading to Monza a week later.
Due to the continued uncertainty of the pandemic, F1 will be releasing further details of the rest of the calendar at later dates. Ensuring that the FIA, authorities and teams all work closely together to help create a revised calendar that is safe for everyone involved.
The current races are to be held behind closed doors with health and safety paramount, but as with the ever-changing situation, things could change to allow fans a chance to see live action again.
Chase Carey, Chairman and CEO of Formula 1, said: "In the past weeks we have been working tirelessly with all our partners, the FIA and the teams to create a revised opening 2020 calendar allowing us to restart racing in the safest possible way. We are pleased to be able to set out our opening eight race calendar today and look forward to publishing our full calendar in the coming weeks. I want to thank every promoter and partner for their support and ongoing commitment to Formula 1. While we currently expect the season to commence without fans at our races we hope that over the coming months the situation will allow us to welcome them back once it is safe to do, but we know the return of Formula 1 will be a welcome boost to sports fans around the world."