Will the 2018 Formula One™ season go down in history?
04 Dec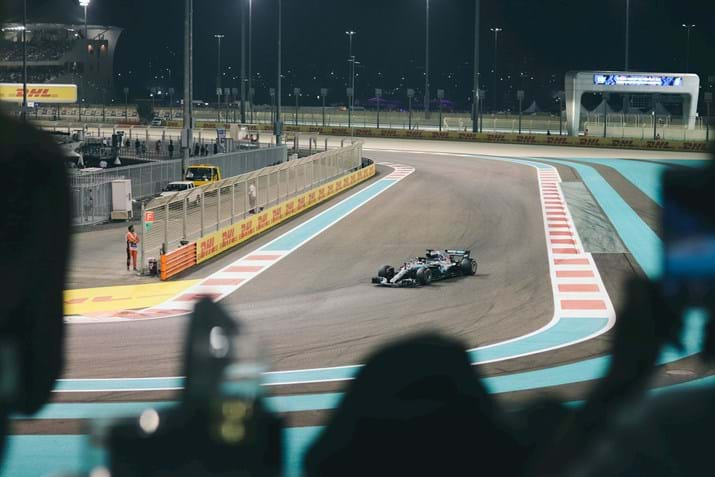 As the chequered flag fell on the 55th lap of the Abu Dhabi Grand Prix, it marked the end to a truly iconic season; as well as marking some significant changes for the sport. It would be the last lap in Formula 1 for Fernando Alonso, Esteban Ocon, Sergey Sirotkin, Stoffel Vandoorne and Brendon Hartley (for the foreseeable future at least). It would also mark the last lap in their current teams for Daniel Ricciardo, Kimi Raikkonen, Pierre Gasly, Lance Stroll, Carlos Sainz Jr and Charles Leclerc. Formula 1 is set to be almost completely reborn in 2019, with only Mercedes-AMG Petronas and Haas keeping the same line-up as in 2018. But before we eagerly look ahead and start anticipating what his shake up will mean next year, let's take a look back at what will go down as one of the greatest F1 seasons in recent years.
Hamilton Takes Fifth World Title
Although the battle between two four-time world champions may have fizzled out as Vettel's campaign with Ferrari imploded, it shouldn't detract from an exceptional year-long fight by Lewis Hamilton. Despite only winning 3 races in the opening half of the season, his mental attitude and determination following his British GP defeat proved unbeatable. Following his home defeat, in the final 11 races, he was only beaten 3 times to the top step; and only once by his championship rival. En route to his fifth Formula 1 World Drivers title, Hamilton amassed another 11 victories to his Formula 1 tally; along with an additional 11 pole positions to extend his record of most pole positions in Formula 1 to 83. Now just 18 victories short of F1 legend Michael Schumacher, is is becoming increasingly likely that within the next couple of years we will see Hamilton become the greatest Formula 1 driver of all time. In 2018 he also added another accolade to his belt - achieving the most points gained in a single season.
However, this achievement may not have been reached if it were not for their controversial team orders in Sochi. The decision to swap Valterri Bottas and Hamilton mid-race to help with the title fight caused criticism amongst fans after pointing out that Hamilton was already well-clear. With the benefit of hindsight, Toto Wolff's decision in Russia cost the team dearly in bragging rights. Those seven points that Bottas forfeited in Sochi meant all the difference in the drivers' championship, dropping him from third to fifth behind Raikkonen and Verstappen. Given that Hamilton would go on to win the championship by 88 points over Vettel, it would prove to be one of the few mistakes Mercedes would make in 2018.
Alonso bows out as a hero
Entering 312 Grand Prix, two-time World Champion Fernando Alonso bowed out of Formula 1 after 17 years in the sport. Only Rubens Barrichello has entered more Grand Prix than the Spaniard (322), so his presence in the paddock will surely be missed. He will also be gutted to learn that his 11th place finish in Abu Dhabi prevented him from scoring that final point to take him to 1,900 total points scored in F1; instead he retires on 1,899. Despite an noncompetitive car, Alonso would always extract the most from his machinery; evident by his 21-0 qualifying record against teammate Stoffel Vandoorne. To celebrate his time in Formula 1, fans were treated to a heart-breaking cool down lap following the Abu Dhabi Grand Prix, which saw Alonso tour the circuit with Vettel and Hamilton. The trio of multiple World Champions would conclude with an epic display of burnouts on the start-finish straight; a sight which we may not see again for many years in the sport.
Other talking points of 2018
2018 was a season to forget for Williams. The team slumped from fifth to tenth in the constructors championship; their worst result since joining the sport. It therefore makes sense that they have enlisted a new line-up for 2019 consisting of fan-favourite Robert Kubica, and current F2 Champion George Russell, adding another Brit to the grid for 2019.
Kimi Raikkonen would break a 113 race drought by taking a win in the American Grand Prix. His last being the 2013 Australian Grand Prix, he was able to silence critics especially after a dismal showing at Monza in front of the Tifosi. The Iceman achieved 12 podium finishes in 2018, just one shy of Vettel. 
In perhaps what can be seen as an ominous omen, Max Verstappen showcased his skills on numerous occasions after suffering a set back. In fact, the young star would gain 33 positions on opening laps in 2018, equaling his race number. It seems the only thing stopping him from a title winning campaign next year may be his 'raging bull' temper.
An iconic season that will be remembered for various reason, but what were your personal highlights of the 2018 season? Do you think Mercedes will be able to equal Ferrari's record of six straight Constructors titles in 2019; or will the newly formed grid provide a much welcomed shake up that Liberty Media are after? Only time will tell. But to make sure you can be there and be closer to the action than ever; there's only one logical partner. Red Eye Events. For more information on the 2019 calendar click here.