Yacht Hospitality vs. Terrace Hospitality at the Monaco Grand Prix
24 Oct
Introduction:
The Monaco Grand Prix, the epitome of glamour and speed, captivates the hearts of Formula 1 enthusiasts and luxury aficionados alike. As spectators gather to witness the exhilarating races and unparalleled excitement, the choice of hospitality becomes a significant factor in enhancing the experience. Two prime options, yacht hospitality and terrace hospitality, offer distinct vantage points and lavish amenities. In this article, we take an honest look into the pros and cons of each, allowing you to make an informed choice for an unforgettable Monaco Grand Prix adventure.
Monaco Yacht Hospitality
Yacht hospitality at the Monaco Grand Prix brings to life the essence of luxury against the stunning backdrop of the Mediterranean Sea. The allure of opulent super yachts anchored along the Monaco harbour is undeniable, and with good reason.
Pros:
A Unique Experience: There is quite simply nothing like watching the Monaco Grand Prix from the sun deck of a super yacht. Your experience starts from the moment you step on board one of our luxury tenders at Fontvieille Harbour. As you enter Monaco Harbour you are met with an atmosphere that is beyond anything you have experienced. The noise, the buzz, the views – it really is mind-blowing! And once you are on board the yacht the wow factor continues throughout the day. To put it in other terms – you can watch any other Formula One Grand Prix from a terrace or balcony, or grandstand seat, but you can only really watch the Monaco Grand Prix from a yacht. There is of course yacht viewing at the Abu Dhabi Grand Prix – but we find that the water level is so low that the experience just isn't the same when compared to Monaco.

Exclusive Views: Yachts offer unparalleled views of the race as they sit at the track's edge, allowing guests to witness the cars navigating the intricate twists and turns from a unique perspective. The larger yachts, moored between the tunnel & Tabac corner, are taken back each morning to around 10 metres from the harbour wall. This gives guests outstanding views of the cars as they exit the tunnel and sweep through the technical chicane.

Luxurious Amenities: Yachts are renowned for their lavish amenities, including gourmet dining, open bars, and plush lounges. Guests can bask in the lap of luxury while indulging in gourmet cuisine and premium beverages. The Harbour Club yacht has catering provided by Lush By Tom Kerridge, with the Michelin star chef himself overseeing every detail. We have the finest wine from Whispering Angel & Pommery Champagne – all enhancing the experience.

Social Atmosphere: Yacht hospitality in Monte Carlo encourages mingling with fellow guests, fostering an ambiance of luxury networking and socialising. This is an excellent opportunity to make long-lasting connections within elite circles.

Privacy: Yachts provide a certain level of privacy, offering a more intimate experience for those who prefer to enjoy the race with a select group of friends, family or colleagues.
Cons:
Weather Dependency: While the Mediterranean climate is generally pleasant with blue skies typical in May, unexpected changes in weather could impact the outdoor experience on the yacht. Fear not though – there is plenty of internal space and cover on the decks, meaning that a touch of rain only really affects the drivers, and actually usually creates a more exciting race.
Higher Costs: For obvious reasons yacht hospitality is synonymous with premium pricing, so maybe not appropriate for those with a smaller Monaco Grand Prix hospitality package budget. The cost can be higher than other hospitality options, but as explained above this really can be a once in a lifetime experience.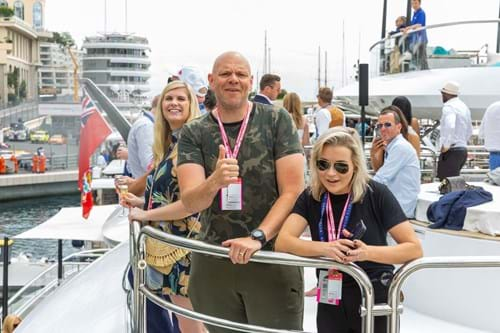 Monaco Terrace Hospitality:
During Monaco Grand Prix week, every apartment building, hotel and private residence with a balcony make their terraces available for F1 hospitality – but like with anything, some are better than others! Red Eye have 3 main offerings; A rooftop apartment at the Shangri-La apartment building; our Harbour Club suite at The Fairmont Hotel overlooking the famous hairpin; and our stunning townhouse villa positioned on the first corner at St Devote. These locations have been specifically chosen, with our expert knowledge of terrace hospitality spanning 18 years. Terrace hospitality brings a sense of elegance to the heart of the action, allowing guests to feel the pulse of the race as they overlook the iconic Monaco street circuit from an elevated position.
Pros:
Elevated Views: Terrace hospitality provides exceptional views of the Monaco Grand Prix, enabling spectators to witness the cars' speed and precision up close and personal. From our Shangri-La terrace we estimate that guests can see approximately 65% of the circuit, as well as direct views of the starting grid, and the large screen – meaning no action can be missed.

Variety of Options: Monaco offers a range of terraces to choose from, catering to different preferences and budgets. This ensures that there's a suitable option for everyone. You can even book a combined package with Red Eye Events – meaning you can experience qualifying day & race day from 2 different locations.
Value for Money: Terrace hospitality, while still luxurious, can be a more cost-effective choice compared to yacht hospitality. Our St Devote terrace packages for example start from £995 per person.
Cons:
Crowds: Some terrace hospitality areas on the market can get crowded during peak times, potentially affecting the overall comfort and exclusivity of the experience. At Red Eye however, we limit the number of guests in our locations, to ensure that everybody enjoys a comfortable and luxury experience.

Weather Vulnerability: Similar to yacht hospitality, terraces are also susceptible to weather changes, which could impact the outdoor experience. This is why we specifically choose terraces that have adequate cover and ample indoor space to protect guests from those potential sudden Mediterranean downpours.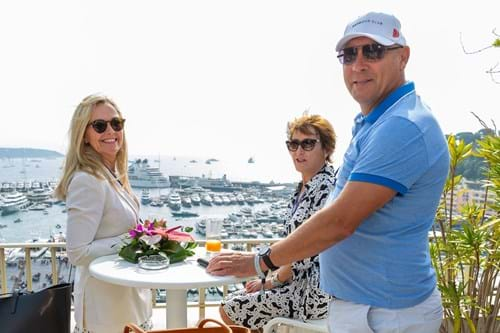 Should I book Yacht or Balcony hospitality for the Monaco GP? Conclusion:
Choosing between yacht hospitality and terrace hospitality at the Monaco Grand Prix ultimately boils down to personal preferences and priorities. Yacht hospitality offers a unique blend of luxury, exclusivity, and stunning waterside views. On the other hand, terrace hospitality grants you a front-row seat to the action, more flexibility in movement, and a diverse range of options to fit your preferences and budget. Regardless of the choice, both options promise an unforgettable experience at one of the most prestigious events in the world of motorsports.
For further information on our packages, and to help choose the right option for you, please contact a member of the Red Eye Events team today!