Formula One Paddock Club FAQs
13 Sep
Red Eye Events are official distributors of Formula One Paddock Club, meaning we are able to supply guests with F1 hospitality at every race on the Grand Prix calendar. Formula One Paddock Club could be described as the 'crème de la crème' when it comes to sports hospitality, offering a VIP experience that will never be forgotten.
As we regularly host guests at F1 Paddock Club we also receive many questions regarding the packages available, so here are a few FAQs and answers that we hope can be of some help. If you have any further questions, please do not hesitate to contact a member of the team and we will be more than happy to help.
What is Formula One Paddock Club?
Put simply Formula One Paddock Club is the most exclusive hospitality package available at the Majority of Grand Prix weekends. Team Paddock Club (when you are a guest of an actual team) and yacht hospitality at the Monaco Grand Prix are arguably the 2 better experiences available, but in general Paddock Club is the place to be. The hospitality in F1 Paddock Club is exquisite, including gourmet dining and an open Champagne bar. You have access to a large, shared hospitality lounge, and also have the best seats in the house, with views of the start/finish straight and team garages. You also have access to Q&As with drivers and team personnel throughout the weekend, as well as a track and pit-lane tour.
Formula One Paddock Club was initially set up to look after corporate sponsors, and it is still a great place to entertain business partners and reward staff. However, in recent years Paddock Club has definitely become less corporate, and it is now very much a place that hosts younger fans, and you'll often be rubbing shoulders with celebrities and well known athletes. After the popularity of Netflix's Drive To Survive, everybody wants to be in Paddock Club, which makes passes all the more difficult to come by. Luckily though, as official partners Red Eye Events have you covered!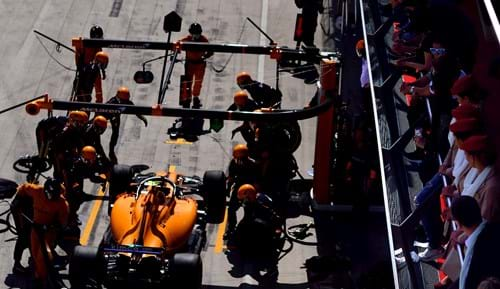 What's Included with Formula One Paddock Club?
What's included with your F1 Paddock Club pass can differ depending on what race you are attending but in general the package includes:
All day refreshments
Open Champagne bar
Gourmet dining with world class cuisine, including local delicacies
Exclusive Pit Lane Tours
Guided track tour on a flatbed truck
Entertainment and driver appearances
Prime viewing from above the garages (except the Monaco Grand Prix)
Access to the Paddock Club Lounge
Photo opportunities with the race trophies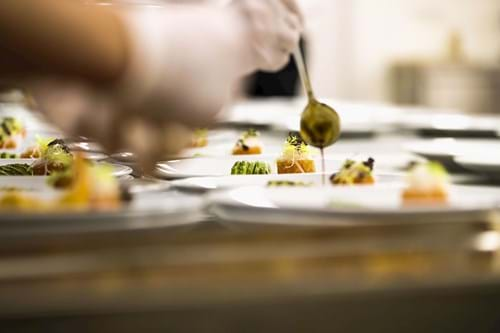 Where is the Formula One Paddock Club Located?
At every race except Mexico & the Monaco Grand Prix, the F1 Paddock Club is situated in the pit building above the team garages. This gives you as the guest unrivalled views of the start/finish straight, as well as the opportunity to witness the pit-stops – an unforgettable experience as well as an unmissable photo opportunity.
As stated, in Monaco the Paddock Club is located in the Paddock, with slightly limited views of Rascasse corner. For this reason we'd always recommend yacht hospitality in Monaco as a better alternative.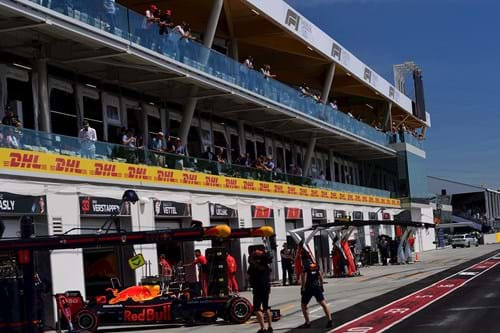 Will I have Garage Access with Formula One Paddock Club Passes?
In short, no. If you buy Team Paddock Club packages through us you will have access through a guided tour of the team garage. However for general Paddock Club passes you will not have access to any team garages.
Will I meet F1 drivers in the Formula One Paddock Club?
Unfortunately Charles Leclerc won't be joining you for lunch, but it's fair to say that attending Paddock Club does give you a good chance of seeing the drivers, and on some occasions you might get the opportunity to get close enough for that all important selfie.
There are no guaranteed or scheduled meetings with drivers for guests, but there are regular appearances and Q&As from drivers past and present, depending on each race. Paddock Club is an official F1 product and as such teams are contracted to assign a driver or high ranking team member such as a principal to appear in Paddock Club – please speak to us regarding schedules for a particular race. Again, Team Paddock Club slightly differs and here you are guaranteed a Q&A session with a current driver.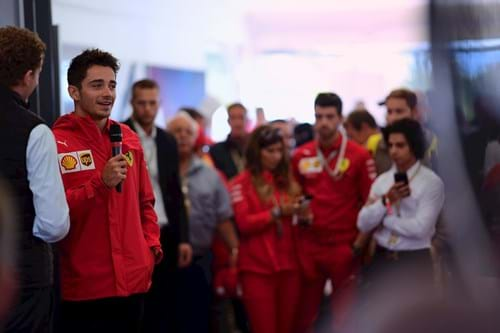 What is the benefit of Team Paddock Club Hospitality
At many of the races the F1 teams will have their own hospitality suites located within the same complex as the General Paddock Club lounge. As you can imagine these are more intimate and you are treated as a guest of the team for the weekend, meaning the hospitality is as good as it gets. There is the usual offerings in terms of dining and an open bar, plus additions such as a garage tour, driver Q&As and high end gift bags for each day.
This hospitality is normally reserved for sponsors and team partners but with our exclusive access we are able to source passes for many of the teams at the majority of races. Contact us for further details.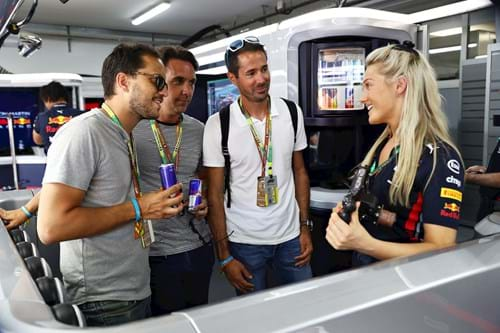 What is the dress code in F1 Paddock Club?
Officially the dress code for Paddock Club is smart/casual but this is obviously always open to interpretation. We recommend you be smart but comfortable, as there can be a lot of walking involved. Shorts are appropriate for the warmer races and as we've mentioned before it is a lot less corporate than years gone by. We recommend checking out the Paddock Club Instagram page for ideas on what other guests are wearing!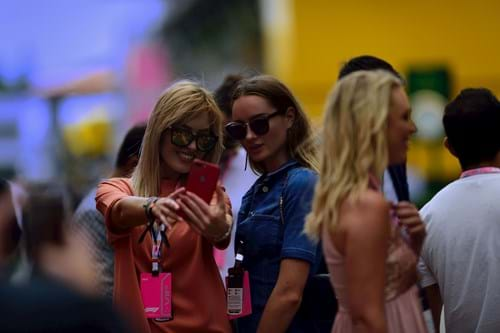 How much is Formula One Paddock Club?
As the most exclusive F1 hospitality package available the Paddock Club does come in at the very top, when compared to other circuit hospitality packages and their pricing. For a 3-day weekend pass prices range from $5,460 - $9,600, including local taxes (2022 season).
Prices are listed in USD, which can be converted to sterling at the time of quote / purchase due to changes in the exchange rate. For more information please contact us.
As official distributors of Paddock Club we do not add any margin, so we sell the package at its recommended retail price, meaning you won't find a better deal elsewhere.
Is Formula One Paddock Club worth the price?
This is always a difficult question and would always depend on individual budgets and expectations. There is no doubt that for the majority of races on the calendar there is no better way to experience the most glamorous sport in the world, and the feedback we have from guests is always extremely positive.
There are however some very good alternative packages available, so if budget is an issue please contact us and we'd be happy to discuss your options.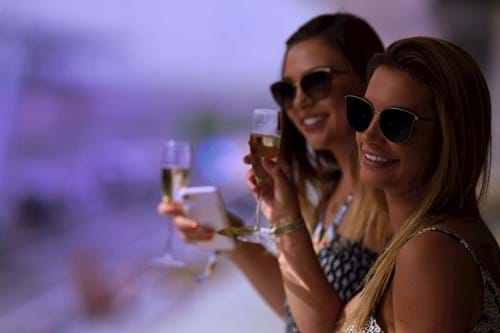 When will I receive my Paddock Club tickets?
Tickets for Paddock Club come in the form of lanyard passes and should be sent to you approximately 2 weeks before the race, along with a full itinerary. This does however depend on each race, and if passes are purchased close to the race date we may suggest on-site collection rather than sending them to you pre-travel to avoid any inconvenience.
Will my Paddock Club Pass get me on the grid?
Unfortunately not. Despite some expectations you won't be mingling with drivers and engineers before the race or bumping into Martin Brundle on his grid walk.
What days can you get Paddock Club Passes for?
For the majority of races there are 3 options available for Paddock Club:
1 Day Pass (Friday)
2 Day Pass (Saturday & Sunday)
3 Day Pass (Friday, Saturday & Sunday)
For Monaco & Mexico only 3 day passes are available.
Is F1 Paddock Club good for businesses?
Yes. Using F1 hospitality to develop and cement business relationships is encouraged, and legend has it that some of the business world's greatest partnerships, deals and agreements have taken place in the Formula One Paddock Club.
Whether you are entertaining suppliers, clients or rewarding staff, Paddock Club offers a unique environment for networking, alongside a truly amazing experience.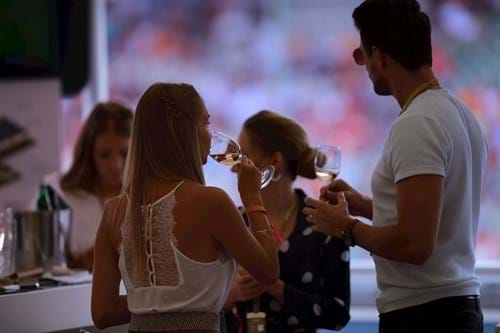 Are Children allowed in F1 Paddock Club
Children are allowed in the Paddock Club but there must be adult supervision at all times. For young children under 7 parents are asked to sign a form to waiver any responsibility so please contact us about this if you need to.
It is also important to mention that every person, regardless of age, needs a pass for entry and there is no discount available for children.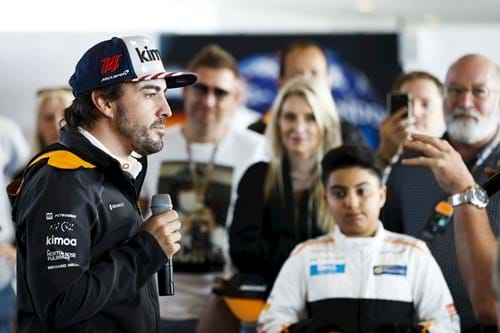 To book Paddock Club tickets please contact a member of the team, or click here to explore our range of Grand Prix hospitality packages.
For Paddock Club details on specific races please click on the relevant link below:
Bahrain Grand Prix Paddock Club
Spanish Grand Prix Paddock Club
Azerbaijan Grand Prix Paddock Club
Canadian Grand Prix Paddock Club
British Grand Prix Paddock Club
Austrian Grand Prix Paddock Club
Hungarian Grand Prix Paddock Club
Belgian Grand Prix Paddock Club
Italian Grand Prix Paddock Club
Mexican Grand Prix Paddock Club
Images © Formula One Hospitality and Event Services Limited.