What has the world of F1 learnt from its Esports Venture?
18 Jun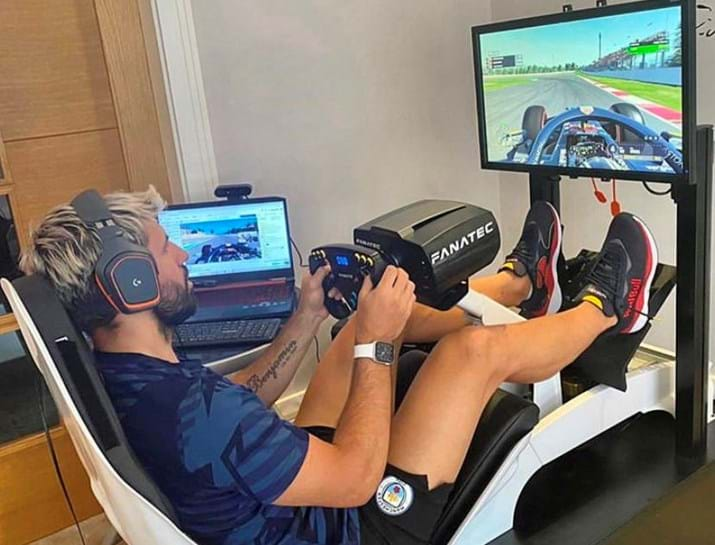 Image: Instagram @kunaguero
With just a few weeks before Formula 1 returns in Austria for the opening round of the 2020 season, last weekend saw the finale of the sport's foray into the virtual world. A series split across 8 weekends, the F1 Virtual Grand Prix garnered praise and criticism in equal measures. While it provided a much-needed escapism for many during the global crisis, many were quick to point out the series' shortfalls. But what can we take from F1's esport venture - was it a valuable exercise, or nothing more than a bit of entertainment during lockdown?
One of the main criticisms, both by drivers and fans, was the choice of videogame. While other series like Indycar and Supercars chose the hyper-realistic iRacing platform, Formula 1, understandably, chose to use its officially licensed game. Certain drivers like Max Verstappen claimed this was the reason for not joining the series as the game is designed to appeal to the core F1 demographic, meaning it features simplified aerodynamics and overall has a more 'arcade' feel. On the flip side, this helped F1 attract a wide-range of celebrities to take part throughout the series including Thibaut Courtois, Sergio Aguero and Ian Poulter, alongside a number of YouTubers and content creators. This helped attract new audiences to F1, demonstrating its widespread popularity.
Other key F1 drivers had their own reasons for not taking part in the series; both Sebastian Vettel and Kimi Raikkonen decided to spend quality time with their families, while others, like Hamilton and Ricciardo, simply were not keen on taking part. This resulted in F1 only managing to attract a peak of 8 drivers to race within the series, while other championships were able to bolster almost full grids. As well as allowing for celebrities, what this did allow was for teams to showcase their junior academy talent, with drivers such as Guanyu Zhou, Louis Deletraz and Pietro Fittapaldi all completing stellar performances. Racing against their F1 peers, it gives us an indication as to how they would fair and what we can expect from the next generation of F1 talent in years to come.
The series also provided some thrilling races, such as the epic race-long battle between Leclerc and Albon at Interlagos. Aided by the toned-down aerodynamics, it allowed drivers to go toe-to-toe and really demonstrate their prowess at the wheel. Given the introduction of the further reduced budget cap for 2021, this could provide an avenue for teams to explore to test drivers against each other in a cost-effective way. With many looking to reduce costs quickly, assets such as expensive simulators may be side-lined, and the ability to compare drivers simultaneously may prove a valuable alternative in seasons to come.
One driver who will be singing the praises of the Virtual Grand Prix series is George Russell. Taking ownership of a sim just weeks into lockdown, the Williams driver instantly saw the opportunity the series presented and put in hours of practice, culminating in 4 successive victories and being crowned the unofficial champion. Although in reality the crown means little, all publicity is good publicity for George, who is keen to show others in the paddock just how skilled he is. With Williams currently unsure on its future in F1, Russell will be looking to establish himself as a key piece of the driver market in 2021. Winning the series in such a dominant fashion against childhood rivals and friends – and F1 rising stars – Alex Albon and Charles Leclerc has certainly highlighted his skillset. Russell will be looking to carry this momentum into the first round in Austria, as he seeks to establish himself as the #1 driver in the Williams team. With Mercedes still looking to finalise its 2021 driver line-up, could this virtual victory prove key in Russell climbing the grid to drive alongside fellow Brit Hamilton next season?
So whichever side of the fence you sit on when it comes to F1's esports venture, it's hard to deny that it may have had knock-on implications to the sport when it returns to our TV sets in July. Bringing new drivers into the spotlight, raising current drivers profiles even higher and exposing the sport to new audiences can all only be a good thing. Let us know your thoughts on how it unfolded and whether you'd like to see it return during the next off season!