Where to stay during the Abu Dhabi Grand Prix
08 Aug
Abu Dhabi, Hotels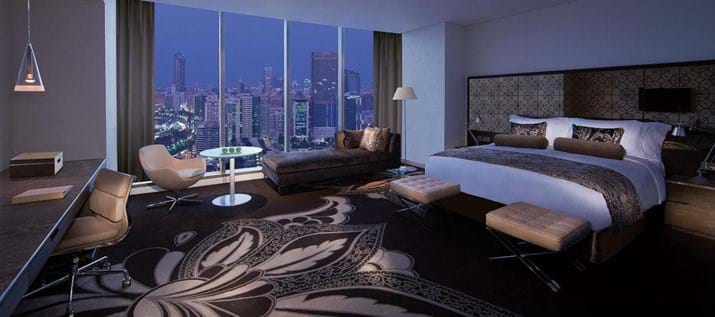 Taking place from November 23rd to 25th, the Abu Dhabi Grand Prix gives visitors a chance not only to soak up the racing action, but also to take advantage of the luxury the city has to offer. 

One great way to experience the opulence of Abu Dhabi is in the hotel that you choose, with the city home to a number of places where you can relax and unwind in true VIP style. Whatever your requirements, interests and tastes, there's something to suit everyone: after a great hospitality experience at the Grand Prix, why not check in to one of these five options?


With its 5 star luxury, this is Yas Island's premier hotel, and lies within the Yas Marina Circuit, home to the Abu Dhabi Grand Prix. It offers 11 dining and lounge areas (including Italian, Mediterranean and Japanese food, plus a rooftop lounge), along with a fitness centre, spa and multiple pools. Each room has free WiFi, a flat-screen TV and a soaking tub - and with the 'who's who' of F1 booked in for the weekend you're bound to bump into someone in the lobby and get that all important selfie. As hospitality partners of the Yas Viceroy we are able to offer a very special room rate when booked with our VIP Grand Prix Package, so please contact us for further details.
Also on Yas Island, the Yas Island Rotana is a 4 star hotel that oozes chic. Your stay will include valet parking as well as transfers to attractions on the island, while the outdoor pool with its swim-up bar screams luxury. Rooms have all the top amenities you'd expect, while upgraded rooms with balconies overlooking the marina, and suites with club lounge access are also available.
Our third pick on Yas Island is the Radisson Blu, which will be a familiar brand to many. It offers 3 restaurants and 2 bars, along with a spa, fitness centre, tennis courts and an outdoor pool. Even the standard rooms offer total rest and relaxation - or upgrade to a suite for an extra bathroom, a private balcony, a fruit basket and more.
This 5 star hotel is only a minute's walk from the West Corniche promenade, and is part of the truly iconic high-rise Etihad Towers. 11 bars and restaurants, a gym, a private beach, 3 outdoor pools and a spa with hammam will vie for your attention - and when it comes to the rooms, you're sure to be impressed. From a deluxe room with either a panoramic view of the city or a look out over the sea to the opulent Royal Etihad Suite, enjoy the city in style.
Last but by no means least on our list is the Novotel Abu Dhabi Gate: a 4 star hotel that's perfect for business and leisure alike. With a spa, a gym, a hot tub, 2 restaurants and 2 cafes (including a Belgian beer cafe), there's plenty to do while you're there. Golf and an outdoor heated pool add extra entertainment, while the accommodation is modern in its design: choose anything from a superior room to a one bedroom apartment that will be a home away from home.
If you are looking for a vip package to the 2018 Abu Dhabi Grand Prix Finale, get in touch here and our expert team of trip orgainsers will take care of everything you will need.