Formula 1's 2020 Pre-Season Testing & Results
10 Mar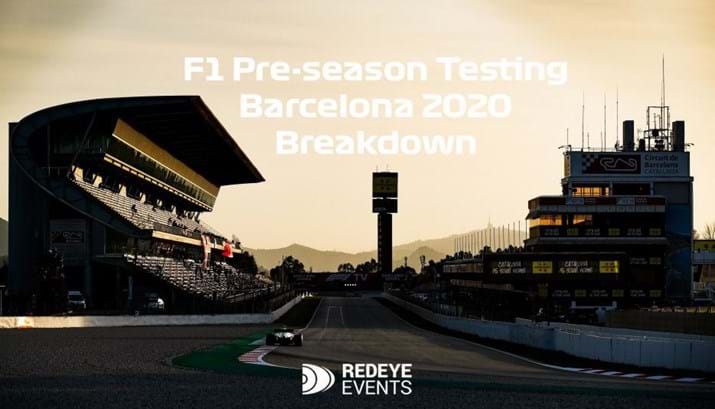 Once in the cockpit, F1 drivers enter another state of being. When the lights go out, these individuals leave everything on the line, pushing the very limits of what's humanly possible. In these situations, it's hard to truly comprehend the complexities of what it takes to be the best in the sport.  All we know is the old adage 'practice makes perfect'. With that being said, pre-season testing is a vital opportunity for teams to trial their cars and drivers' capabilities. So let's take a look at what previous testing results tell us, as well as this year's outcomes followed by in-depth analysis.
Testing vs. End Of Year Results

 
It all boils down to one moment. All things considered; we're talking split second decision-making with milliseconds in distances. This coupled with drivers being unfamiliar with their new cars makes testing very difficult and dangerous. It's hard to accurately gauge their season performance based on testing results. However, we've pulled together key conclusions based on top teams' previous results and season outcomes:
Mercedes maintain dominant testing and season performances, so 2020 could be theirs for the taking, with Hamilton completing a record-breaking season
Red Bull tend to have poor testing compared to season performance so 2020 is looking good, especially with the emergence of Thai-British youngster Alex Albon
Ferrari's position tends to fall back compared to testing, which is worrying, especially with Vettel and Leclerc's bitter rivalry throwing spanners in the spokes
McLaren look set to top the midfield with consistent results, reflecting similar testing and constructors' positions

Racing Point tend to perform better across the season so they're looking good for 2020, and are set to compete with the likes of McLaren and Renault for midfield superiority
The 2020 Test
Every second from the six days in Spain mattered. Barcelona presented an opportunity for teams to showcase their hard work, displaying feats of engineering excellence. Look at what happened with Williams in 2019, their tardiness most definitely cost them precious practice time. It's possible this had knock-on consequences, resulting in a disastrous season.
Mercedes, as expected looked unbeatable out there. Bottas got straight down to business gracefully flying around the track, reflective of exquisite German engineering. A brutal, defiantly strong performance shows both driver and constructer at the peak of their powers (and we've not even mentioned the golden boy yet!) Racing Point caused a huge stir in the midfield; however, it was Renault rising from the ashes like a Phoenix reborn to go half-a-second clear of their midfield rivals. Ferrari gave cause for concern with a puzzling display, showing faults with their straight-line speed, or lack thereof. Their power unit just doesn't look as promising as last year's.
Overall thoughts suggest Mercedes will remain at the top of the pack, with Red Bull likely to cause them problems. Ferrari is ready to ruffle some feathers whilst the midfield battles is on a more of a level playing field.
Results Analysis
Mercedes' innovative new Dual Axel Steering (DAS) helped towards their dominant testing results. They completed a huge 903 laps over the course of six untroubled days. As the chiefs of long run pace, they're set to take 2020 by storm. On the other hand, Red Bull has a quiet confidence about them, with their short run pace better than Ferrari's, although their long run pace is 0.1s/lap slower.
Renault show the biggest percentage gain in long run metrics, with a staggering 2.91%, with Haas making a 2.63% gain. McLaren are up by 1.19% and Williams 0.92%. Unfortunately for those hoping for a tighter battle between the top three, it seems Red Bull have lost 0.7% to Mercedes and Ferrari 0.5% by the same metric.
But all these percentages may mean nothing at all. We won't truly know how everyone will fare until the first race of the season. Teams and drivers up and down the grid will be continually developing technology and skillsets, gearing up towards the season opener in Melbourne. As Christian Horner eloquently puts it in the Netflix series Drive To Survive: "We all get to Melbourne, pull our trousers down and see what everyone's got!"  
Fortunately for Red Eye, we will be at every race in 2020 - entertaining guests with a range of VIP hospitality packages. Will you be there with us to see how the season unfolds?