The Greatest Moments of the 2018 F1™ Season
01 Feb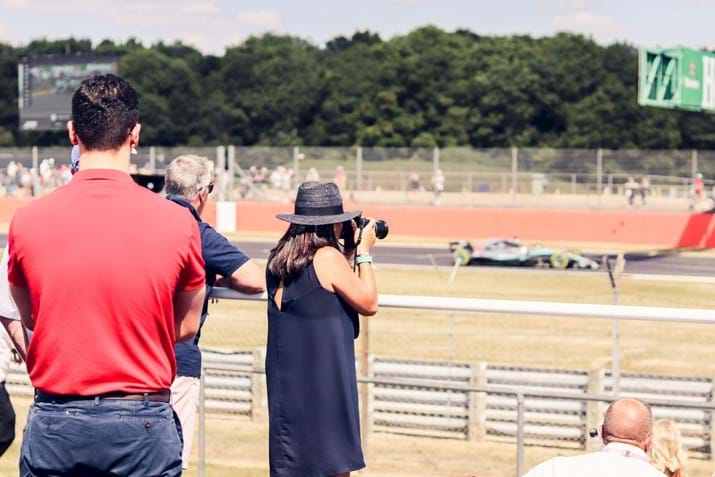 With just 6 weeks to go until lights out in Melbourne, winter can often seem endless waiting for the action to start once again. With many drivers switching teams for the 2019 season, it's set to be one of the most intense seasons in recent years as the new pecking order is decided. Will Mercedes be dominant once again? Will Ferrari find new determination under the direction of Mattia Binotto? With the eyes on the world upon them in Australia, each team will be looking to show that their winter development programme has been the strongest.
But until then, all we can do is eagerly wait. Which is why, after much office debate, we at Red Eye Events have pulled together our top 5 moments from the 2018 Formula 1 season. Let us know if you agree with our decisions in the comments!
5 - Raikkonen signs off from Ferrari with his first win in 113 races
For many critics, the Iceman was not worth the drive at Ferrari after 2017. They had witnessed mediocre performances in the shadow of Sebastian Vettel; and despite him being the Scuderia's last F1 Champion, it was now a decade ago. But with suggestions as early as June that up-and-coming star Charles Leclerc was poised to take over at Ferrari, Kimi showed his pace in-front of the Tifosi crowd, setting the fastest lap ever in F1 at Monza. He followed this up by finally managing to take his first win since Australia 2013 at the American GP; and he did it in true style.
A race-long three way battle between Raikkonen, Verstappen and Hamilton demonstrated that races can still go down to the wire in F1, gripping fans to the edge of their seats as they witnessed a truly remarkable grand prix.
4 - Hamilton becomes a five-time World Champion
Unbeknown to all, F1 fans began the year about to bear witness to something the sport had never seen before. Two four-time World Champions going head-to-head to secure a career fifth. For the first half of the season, the duel between Vettel and Hamilton ebbed-and-flowed. With the development race in full swing, from one race to the next you couldn't predict which would emerge victorious; that was until the wheels came off Vettel's wagon in front of his home crowd in Germany. After crashing out of the lead, the German never regained that edge, whilst Hamilton went on to claim 6 victories after the summer break.
Although the Championship may not have gone down to the wire, Hamilton still claimed an incredible fifth world title in front of the Mexican crowd. Now joint second with Juan Manuel Fangio in terms of world titles, only a certain Michael Schumacher stands in his way from becoming the most successful F1 driver of all time.
3 - Hamilton fights back at Silverstone
From our Silverstone Six hospitality suite, we could feel the roar of excitement on Saturday afternoon as 200,000 British fans rose to their feet and cheered Lewis Hamilton to his sixth pole position at Silverstone.
That feeling of elation carried on around the circuit through the starting grid on Sunday, those five red lights counting down as he hunted another home win. That elation changed to a mixture of anger and sorrow for many, as the Brit was spun by Ferrari's Raikkonen heading into turn three.
But in true Lewis Hamilton fashion, cheered on by his home crowd, he put in one of his most captivating drives of his entire career. From our view in the VIP Silverstone Six grandstand it didn't matter where you looked, fans were cheering ecstatically as he overtook drivers at Maggotts, Becketts and Village. He was truly a man in his finest form, and witnessing it at so many different corners from our cemented the British Grand Prix in our number 3 spot.
2 - A fitting send off for Fernando Alonso
Despite languishing at the back of the field for the last few years of his F1 career, Fernando Alonso is still for many one of the all-time greats. His sheer ability to drag the most out of any car he is given has been proven countless times. Could anyone else have brought their car back to the garage with two punctures, as he did in Azerbaijan? Time and time again he pulled his McLaren into the points, earning the respect of fans around the world.
Calling time on his F1 career after 17 years in the sport, Alonso signed off in style alongside other multiple World Champions Lewis Hamilton and Sebastian Vettel. Touring the circuit in flying formation, passing Harbour Club Hospitality in union, the trio gave fans a once-in-a-lifetime experience on the start-finish straight. With 11 Formula 1 Drivers Titles between them, the three champions performed spectacular donuts in front of the crowd to sign off the 2018 season in true Alonso style.
The best moment of F1 2018: Redemption for Ricciardo at Monaco
Two years after a Monaco win was cruelly taken away from Daniel Ricciardo, redemption was finally served in 2018. Setting the pace with his nimble Red Bull Racing chassis right from the initial practice sessions on Thursday, the Australian was untouchable all weekend.
The pressure got to his teammate, Verstappen, who started from the back of the grid in the sister car after crashing in FP3. But that didn't matter to Ricciardo, with his sights set on victory, he finessed his way through the twisting harbour in front of our VIP guests to what would be his last victory for the Aston Martin Red Bull Racing squad.
It was a race that gripped our team and fans alike, whether stood on the Harbour Club Terrace, or up close to the action aboard one of our Super Yachts. Ricciardo's dominant performance created the perfect atmosphere for our guests, ahead of a truly incredible After Party mingling with the stars!
So that's our team's highlights from the 2018 season. Do you agree with our list? One thing's for certain, we can't wait to see the 2019 season get underway in Melbourne. Want to join us? To find out more about our Formula One Hospitality packages just click here.