From Russia With Love. Combine the Russian GP with a perfect mini break in Sochi
19 Sep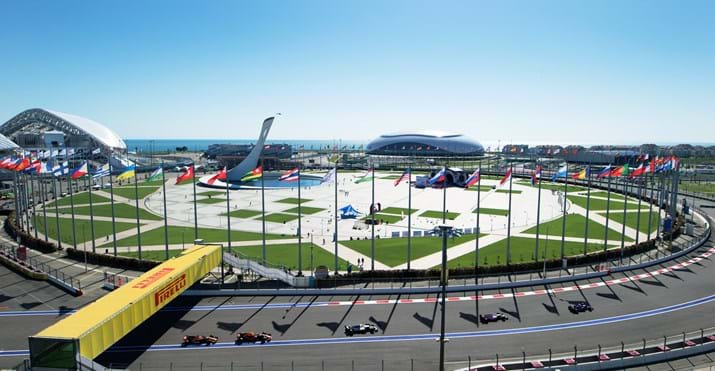 The Russian GP is held in the city of Sochi at the Autodrom Street Circuit, producing 5.848km of thrilling F1 entertainment around the former Olympic Park. In addition the city of Sochi has a broad choice of attractions to suit all tastes. So, why not incorporate the excitement of the GP with a well-deserved mini break away? With Red Eye's VIP hospitality at the heart of the weekend, enjoy the race and indulge in the artistic Russian culture in total luxury. Experience some of the must-see attractions in the city of Sochi, whilst satisfying your F1 needs, exclusively with Red Eye Events.
Since it's inception in 2014, Lewis Hamilton has won 2 out of the 4 Grand Prix. Could this be the year he takes his hat-rick en-route to his fifth world title?
Enjoy a mini break; top 5 attractions in Sochi
Sochi is a Russian city on the Black Sea. The city hosted the 2014 Winter Olympics, as well as games at the 2018 World Cup, and is renowned for its beautiful summer beach resort. In addition to the race, Sochi provides an abundance of off-track excitement and entertainment to suit everyone. So why not live it up on a weekend break away?
If the F1 racing leaves you with thrill seeking desires, visit the numerous sports complexes available. Alternatively, step away from the action and relish in the calm of Sochi's national park. There's ample choice; the mini break away may incorporate:
Our Package; a mini break away
Couple the Russian GP with a well-earned break to the city of Sochi, as you savour the multitude of attractions at your fingertips. With our Formula One Paddock Club Sochi you'll sit above the team garages with a fantastic view, overlooking the start finish line. Additionally, our package combines prime access with the finest service, exquisite cuisine and unrivalled views putting you at the heart of the action. Furthermore, you will receive all day refreshments and a free-flowing Champagne bar; coupled with the finest wines. Entertain your need for speed with an exclusive pit lane tour; including VIP access to the F1 Support Race Paddock and driver experiences.
Don't miss this wonderful opportunity, reward yourself with an amazing break away and experience what Russian culture has to offer. Enquire for a price on our package through our website. We look forward to seeing you there!
Stay tuned for more package announcements at Red Eye Events.