Red Eye Chat with Catering Partner Tom Kerridge
25 Feb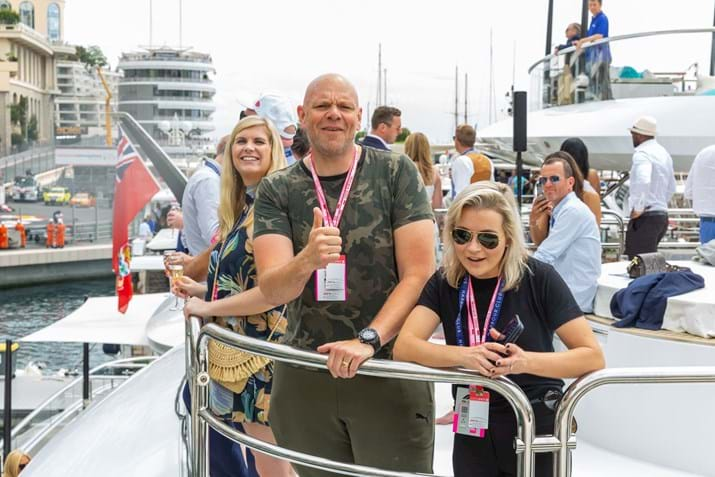 Red Eye Events are proud to continue our successful partnership with Michelin-starred chef Tom Kerridge in 2020. Lush Performance by Tom Kerridge is an events and hospitality business that offers a standard of excellence built on the foundations of the 2 Michelin Star The Hand & Flowers. Its classic techniques, together with high quality produce and ingredients, give a level of hospitality that is simply world class. Following the success of last year, Tom and his creative team will join us again in Monaco, providing delicious, award-winning cuisine for our Superyacht & Shangri La Terrace hospitality packages - as well as being on hand to meet guests and talk through their mouth-watering menus.
During a recent planning meeting we sat down with Tom to ask a few questions, and established what makes the Monaco Grand Prix so special for this Michelin Starred Chef.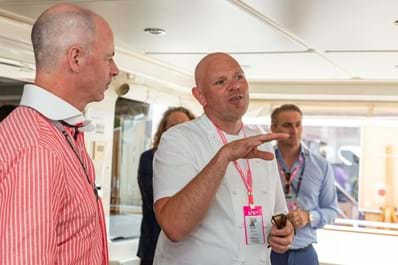 How was your first Monaco Grand Prix experience in 2019
My first Monaco experience was absolutely mind blowing - the atmosphere and the energy was incredible. The boats and the setting make it feel like one of the most special places and most celebrated events on earth. The team at Red Eye worked so hard to make sure that the guests and my team felt welcome and to ensure that everyone had the best time possible at this incredible event.
How long have you been an F1 fan? Has Monaco always been on the bucket list? 
I've been an F1 fan for as long as I can remember, I've always loved cars. The Monaco Grand Prix is one of those things that I never dreamt I would be able to do, so yes, definitely a life memory!
What is the most exciting part of the Monaco GP Weekend?
I was very lucky to be invited to do the Grid walk on the Sunday morning with Nigel from Red Eye, hanging out within touching distance of all of those incredible cars, as the atmosphere built to the start of the race. That really was a once in a lifetime opportunity.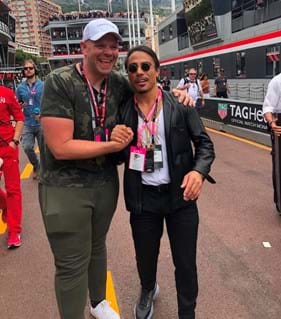 What is the hardest part about catering at the Monaco GP?
Logistically, it is very difficult to manoeuvre your way through Monaco. Once practice, support races and F1 starts the roads are completely closed. The only way to get deliveries onto the yachts is through using other smaller boats, which is all good fun, but a challenge!
What inspired your menus?
We are very proud to be a British company that has an opportunity to showcase Great British dishes and produce in an amazing setting like Monaco. We work very closely with the Red Eye team to deliver a product that their guests would like, while at the same time staying true to our roots.
What is your favourite piece of food you serve over the weekend?
Mini Coach sliders, from our one Michelin pub in Marlow - nothing beats a burger!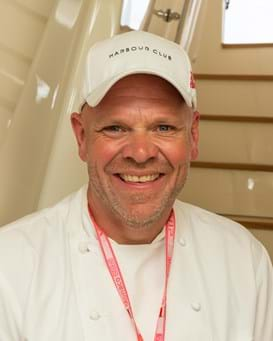 Will your famous pies be coming to Monaco again? 
I thought it would be a great idea to take brilliant, well made pies to Monaco. They were the biggest hit on the Red Eye yacht - even Eddie Jordan wanted more sent to his boat!
How big will your team be for Monaco this year?
We are taking around 25 members of the Kerridge team from Marlow, London and Manchester. People that have worked with us for years that can help drive home the DNA but also be involved in this exciting weekend!
Which F1 Team do you support?
I'm a big Mercedes fan - I love very much how they work to completely dominate through innovation and technology. But I'm also a fan of McLaren and have a huge soft spot for Red Bull for being a bit rock and roll!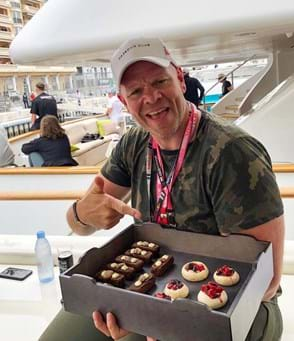 And a favourite driver?
I'm a huge Lewis Hamilton fan - I believe he is one of the greatest sportsmen ever. This year could be an incredible year for him. I have been very fortunate to meet him a couple of times last year, and both of them were proper fan boy moments!
Final Question - You're hosting a dinner party for 3 F1 drivers (past or present). You're cooking, obviously - who would you invite, and what are you serving?
Ayrton Senna - just supremely talented, naturally gifted and an absolute genius. Michael Schumacher - I love sports people when they take complete control and seize moments while dominating their chosen sport, pushing the boundaries further and further - this man is a driving machine! Having met Lewis Hamilton a couple of times before, I would normally say he'd be the first name on this list; however as I am cooking & I'm not very good at vegan food I'm afraid this time Lewis' seat will be filled by Lando Norris - such a breath of fresh air, clearly very talented and seems like a good laugh! As there are three different nationalities, I'd start with Bolinho de Bacalhau - these are little Brazillian fish fritters, a bit like salt cod, as a starter. Followed by roast beef and Yorkshire pudding for main, and then finish with black forrest gateau for dessert - Brazil, Britain, and Germany!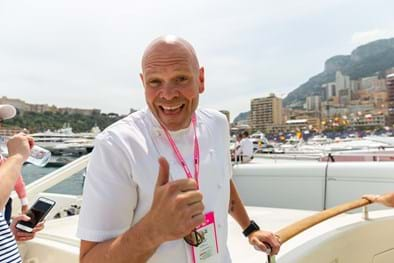 A big thank you to Tom for taking time in his busy schedule to answer our questions. If you'd like to join us in May please take a look at our Monaco Grand Prix hospitality packages and contact us for further details.